Health
The 11 Best Brushes That Make Everyday a Good Hair Day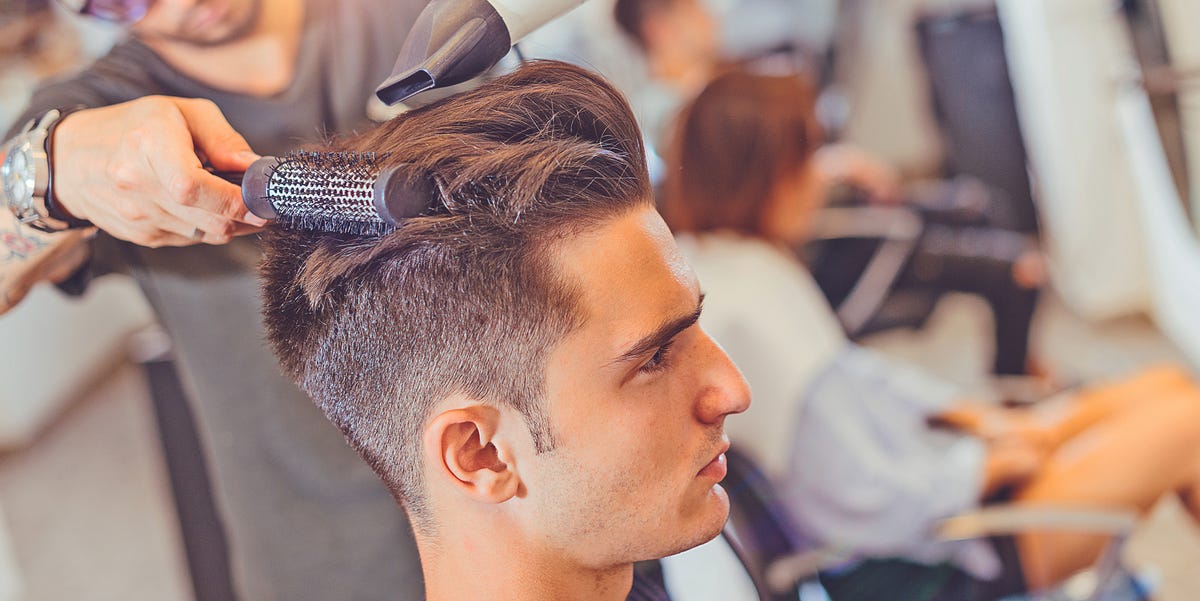 You know the best styling products to use for your hair, and you know how to get the perfect haircut you want. But did you know that the kind of hair brush you're using is just as important? Since no one has the same hair type, there's not really a one-brush-fits-all option out there to give you the best possible style you're looking for. Whether you have thick curly locks or thin, fine hair, you want your brush to work with your hair and not against it.
Actually, a crucial part of developing and maintaining an effective hair routine is how you care for and prepare the hair before you style it. The moment when your hair is still drying before you apply product can make the difference between a good hair day and a great one. And if you're still in your quarantine hair experimentation phase, there's no better time to invest in one of the best hair brushes.
"Lots of people have been growing out their hair because of the pandemic," says Russell Maxwell, a Brooklyn-based barber. "A simple brush is key to detangling and providing volume, which just makes styling easier." Beyond the ability to eliminate knots and snags, a good brush also stimulates the scalp and can remove any flakiness (aka dandruff) so your hair looks fresh and healthy, no matter the length.
"If you have long or thick hair, a brush is essential," says Dillon Ross, a New York-based screen printer and grooming enthusiast. He currently sports shoulder-length locks that look impossibly smooth, and makes a case for only using a brush in place of a more elaborate routine. "I used to use products, now I just brush." No matter what type of hair issues you face, a brush can make your life easier.
If you're struggling with flat hair, a standard styling hair brush will give it more volume and support. For those with frizzy hair, a brush can easily eliminate frizziness while simultaneously stimulating the follicles on the scalp for improved growth. And if you're in a rush, a vented hair brush will help your hair dry faster so you can save time. When it comes to brushes, the possibilities are endless. We've rounded up some of the best hair brushes on the market to meet a variety of needs, and to remind you just how low-manetenance grooming can be.
Advertisement – Continue Reading Below
Wet Brush Men's Detangler
Beloved by stylists, this best-selling hair brush uses patented flexible bristles that stimulate circulation for improved hair growth. Additionally, its ergonomic design adapts to a variety of needs.
Boar's Hair Brush
The dense bristles on this Beechwood brush help activate natural oils to keep your hair looking shiny and suave.
Art of Shaving Kent Beard Brush
theartofshaving.com
$75.00
Don't forget the beard! This compact boar bristle hair brush is perfect for tidying up your facial hair and increasing its shine.
Baasha Hair Brush
The curved design of the popular Baasha makes styling and detangling different hair types a breeze. And a bonus—the covered bristles provide a subtle massage effect that keeps the scalp healthy.
Christophe Robin Detangling Hairbrush
This Christophe Robin hair brush is as nice to look at as it is practical. The handcrafted oak base and premium boar bristles seamlessly combine function with a sleek design.
Conair for Men Nylon Bristle Hairbrush
This simple option has nylon bristles and a no-nonsense design is a perfect introductory hair brush.
Mason Pearson Detangler All Nylon Hair Brush
If you have particularly thick hair, consider a nylon hair brush. The softness of the bristles provides a strong but gentle detangling experience for more sensitive scalps.
Raincry Condition, Travel Size
www.neimanmarcus.com
$90.00
This is the perfect tool for freshening up while you're on the go. This travel brush has conditioning properties that transfer the hair's natural oils from root to end for a smoother-looking appearance.
Diane Premium Boar Bristle Brush
Get two hair brushes for the price of one. One side uses boar bristles for smoothing and styling wave styles while nylon bristles on the opposite side help reduce frizz.
Men's Beechwood Bristle Brush
With a timeless design and durable build, this brush will keep your hair looking fresh for years to come.
Drybar Round Ceramic Brush
You can create creates smooth curls with this volumizing brush that helps reduce frizz and add shine. The ceramic barrel heats up during blow-drying, which helps lock in volume and curl. This brush is best for thin, straight hair.
This content is created and maintained by a third party, and imported onto this page to help users provide their email addresses. You may be able to find more information about this and similar content at piano.io
Advertisement – Continue Reading Below
Source link