Health
The 8 Best Air Fryers Money Can Buy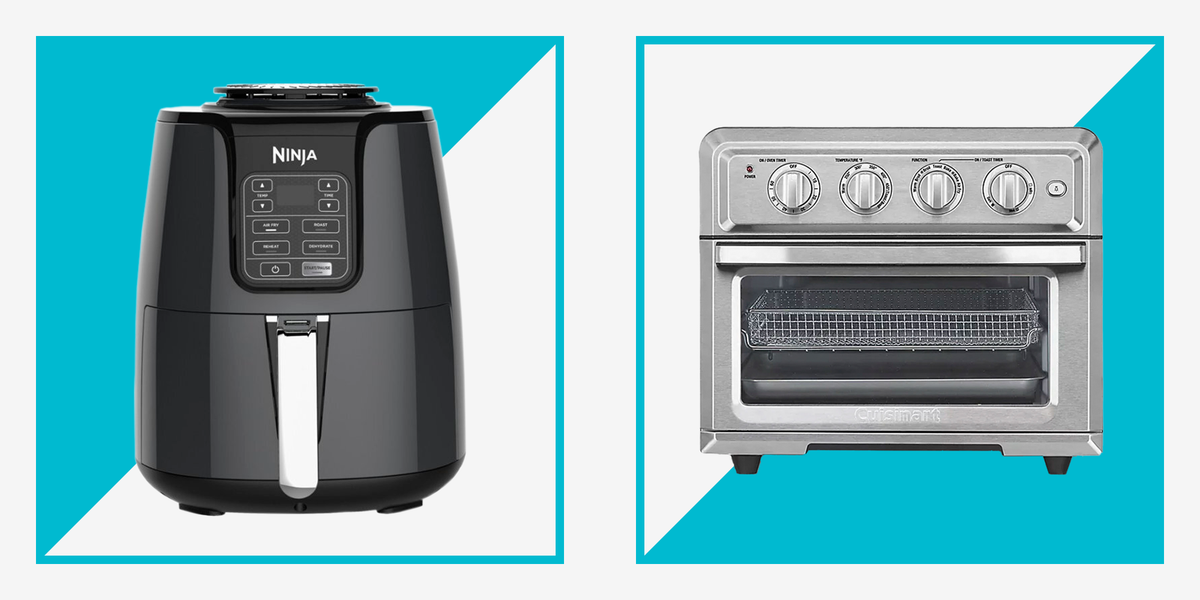 Photos Courtesy of Retailers
Over the past few years, a top-quality air fryer has become the MVP of kitchen gadgets in American households. In fact, according to a home-industry adviser at the NPD Group, a market research firm, nearly 10 million air fryers were sold in the United States from late May 2017 to mid-March 2019. And in 2021, the pedestal of the air fryer remains high and mighty. When used properly and carefully chosen, we too can confirm that it actually lives up to the glistening consumer hype.
How Do Air Fryers Work?
Though air fryers may seem like they run on pure magic, there is some science behind those crisp, crunchy results. Air fryers work by using a small amount of oil and hot air to effectively "fry" your food. In an air fryer, hot air circulates around the slightly oiled food using convection, cooking it quickly and evenly. An air fryer slightly dehydrates your food (but doesn't dry it out) to achieve a crispy texture.
How to Find the Best Air Fryer
Like any hot product of the moment, there are a plethora of options on the market for air fryers, which can make shopping for one major headache. The key to finding the best air fryer for your needs is to think about the size of your kitchen, what you'll be using it for, and who you'll be serving. You'll also want to consider the latest products and research because many companies have released a second or third generation versions that solve customer complaints from the first time around.
While air fryers do as their name entails, the best versions bring efficiency to your cooking and cut your kitchen appliance count through multi-purpose capabilities. From Amazon to Best Buy, these air fryers are available across the board of your favorite retailers, so you can order today and whip up some fried chicken tomorrow, the healthy-er way.
To help you cut through the fat (pun intended), we researched thousands of air fryer reviews and tested the top-rated ones on the market from Ninja, Phillips, Cosori, and more. Check out the 8 best air fryers of 2021 according to your needs, so you can brown your chicken, enjoy a plate of fries, and crisp up some veggies–all guilt-free, without excess calories and toxic cooking oils.
Advertisement – Continue Reading Below
Best Air Fryer for Families
Instant Pot Vortex Plus 6-in-1 Air Fryer, 6 Quart
amazon.com
$240.00
$119.95 (50% off)
From the makers of the wildly popular Instant Pot, the Instant Vortex Plus allows you to air fry, roast, broil, bake, reheat, and dehydrate. The machine is large enough to fit two pounds of fries or a four-pound chicken: far more cooking space than its competitors, making it the best option for families. Plus, with over 36,000 five-star Amazon reviews, it's one of the more popular air fryers on this list.
Most Advanced Air Fryer
Breville Smart Oven
williams-sonoma.com
$349.95
The Breville Smart Oven has a pretty advanced system that uses algorithms to determine the "ideal cooking temperature." This baby as 11 different settings, air-fry being one of them. It's a one-and-done kitchen gadget that bakes, toasts, slow cooks, broils, and more. The dual-speed convection mode cooks food up to 30% faster for a crispier finish in no time at all. Plus, it's a stylish addition to any kitchen. If you're looking for a toaster oven that can air fry, you'll want to add this option to your cart stat. 
Most Reliable Air Fryer
Ninja Air Fryer
With a 4-quart non-stick basket and the ability to cook two pounds of food, the Ninja Air Fryer can be used to fry or dehydrate. The machine varies from 105 degrees for dehydrating to 400 degrees for air frying. The Ninja Air Fryer needs little-to-no oil to fry, and promises an easy clean up. This one is dishwasher safe making set up and break down a breeze. If you're new to the air fryer space, this is a great place to start. 
Best Air Fryer Overall
Philips Premium TurboStar Air Fryer
With the ability to cook 1.8 pounds of food, the Philips Premium Air Fryer claims to cooks food 1.5 times faster than an oven, and it drains more fat than competitors on this list through "fat removal technology" in the convection. It comes in a bit pricier than the Insta Pot and Ninja, but it's a heavy-duty kitchen gadget that you can count on. The most common review is how perfectly even your food will crisp, even in larger quantities. It rises above some of its competitors because of its user-friendly system and performance.
Best Small Air Fryer
Dash Compact Air Fryer Oven
One of the most common complaints about air fryers are how clunky they are, especially in small kitchens. The Dash Compact Air Fryer is exactly what it sounds like: small and efficient. It's one of the only smaller sized fryers that doesn't feel like a play toy. It brings on evenly fried food for one in a breeze. 
Best Value Air Fryer
COSORI Smart WiFi Air Fryer
Cooking, even with an air fryer just got way easier. This fool-proof, smart air fryer provides easy-to-follow recipes, presets, and reminders to shake things up inside. Best of all, you can view and control everything from your smart phone. It even connects to Alexa and Google Assistant for hands-free preheating. This air fryer is for people that don't have a ton of time to prepare dinner or to learn about an entire new system. With easy preset buttons like chicken or veggie, an automatic shut-off option, and an exceptionally fast preheat system, it's almost impossible to ruin dinner with the Cosori. It's a high-tech item at a moderate price. 
Most Versatile Air Fryer
Cuisinart Digital Convection Toaster Oven Airfryer
If you want to keep your kitchen looking minimal and sleek, but still want the advantages of an air fryer, look no further. Cuisinart is bringing the heat, by an 1800-watt motor, fan, and high velocity airflow to bring perfectly crispy food in complete disguise. During the testing period, this oven was used the most because it can do the most: bake, broil, pizza, roast, toast, bagel, defrost, fry, reheat, and more. It's user friendly with presets and sits pretty on any countertop.
Best Air Fryer for Roasts
GoWISE USA Electric Air Fryer Oven
For just $100, you can get an air fryer that toasts, bakes, and dehydrates without taking up too much counter space. The best part about the GoWise oven is that it comes with accessories for whipping up a rotisserie chicken, vegetable, and seafood kebabs. It has a 12.7-quart capacity, making it another solid choice for a family household. 
This content is created and maintained by a third party, and imported onto this page to help users provide their email addresses. You may be able to find more information about this and similar content at piano.io
Advertisement – Continue Reading Below
Source link