US
The Queen has lost her 'strength and stay'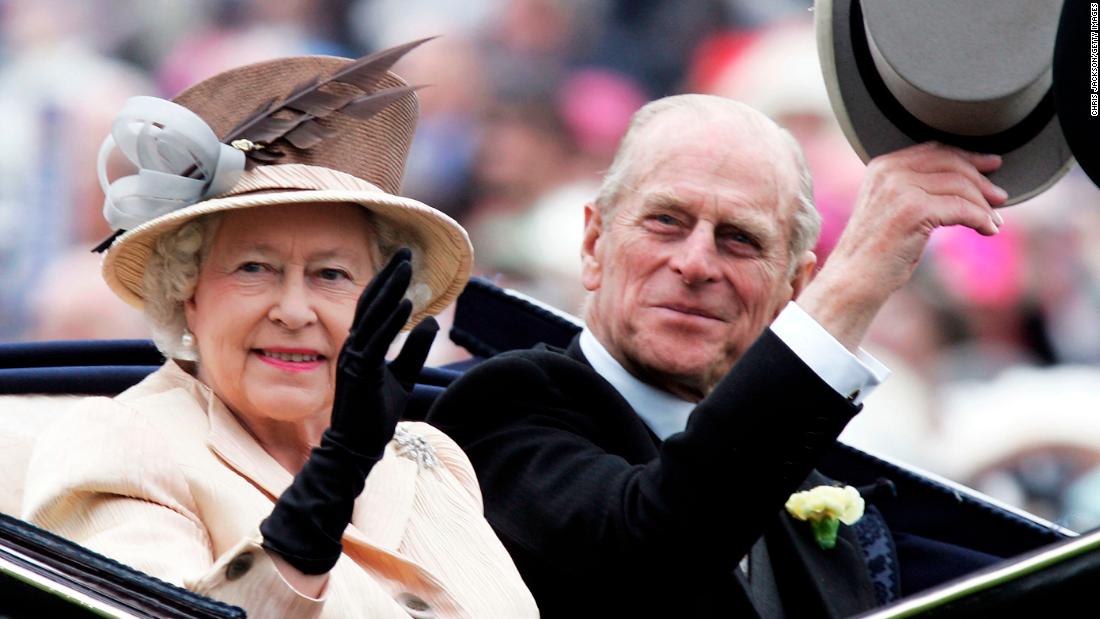 The Queen's longtime companion, the Duke of Edinburgh, was 99 years old.
Despite all the planning for this eventuality, it still came as a deep shock. He was the one constant by the monarch's side — her closest adviser, confidant and partner throughout their 73-year marriage.
As the nation mourns his passing and reflects on how difficult it must be for the royal family today, one small comfort for the Queen may be how much time she got to spend with her beloved husband over the last 12 months. The couple took up residence with a small circle of household staff at Windsor Castle, west of London, as the coronavirus pandemic hit the United Kingdom last spring.
He devoted himself entirely to the Queen. Those personal sacrifices would define his legacy.
While he may not have been entirely comfortable about taking a secondary role to his wife, he did so without public complaint. It can't have been an easy transition, and there were certainly ups and downs, but he found a public role for himself through his charitable work — particularly in conservation and through the Duke of Edinburgh awards. He founded that program, which rewards children for achievements in personal development and community involvement, in 1956.
Philip was the only person that the Queen could be "normal" with and they were captured from time to time sharing a laugh together. Even their children have to follow royal protocols, acknowledging her position with a bow or curtsy when seeing her.
Without him, the monarchy as we know it today would not have looked the same. He performed an integral role in the family dynamics which the public were never privy to. His legacy is the lasting and real impact he leaves behind.
His death is a loss for the family, and the Queen no longer has her steadfast support. One thing to watch in the coming months will be how the monarchy evolves. Charles and William will likely step up even more for engagements on the 95-year-old sovereign's behalf than they have been doing in recent years. Philip's death signals a new era for the family and it will take time for them to adjust to a world without him.
TRIBUTES POUR IN
The world reacts
Funeral arrangements expected on Saturday
PRINCE PHILIP: A LIFE IN PICTURES 1921 – 2021
While primarily known for his marriage to the Queen, Prince Philip was an extraordinary figure in his own right.
In his seven decades of service, he often accompanied the monarch on royal engagements and conducted thousands of his own solo appearances before stepping back from public life four years ago.
Prince Philip was born into the royal families of Greece and Denmark. His family left Greece in 1922 and settled in Paris after his uncle, King Constantine I, was overthrown.
Prince Philip is dressed for a production of "Macbeth" while attending school in Scotland in July 1935.
Prince Philip sits with his fiancee, Princess Elizabeth, in July 1947. He had become a naturalized British citizen and a commoner, using the surname Mountbatten, an English translation of his mother's maiden name. He was also an officer of the British Royal Navy and fought in World War II.
The Queen and Prince Philip pose for a photo with their children Prince Edward, Prince Charles, Princess Anne and Prince Andrew in 1979.
UK PRIME MINISTER'S STATEMENT
Shortly after Buckingham Palace's announcement on Friday, UK Prime Minister Boris Johnson took to the podium outside Downing Street to honor the Duke of Edinburgh. Here's his full statement:
It was with great sadness that a short time ago I received word from Buckingham Palace that His Royal Highness the Duke of Edinburgh has passed away at the age of 99.
Prince Philip earned the affection of generations here in the United Kingdom, across the Commonwealth and around the world.
He was the longest serving consort in history, one of the last surviving people in this country to have served in the second world war at Cape Matapan, where he was mentioned in despatches for bravery and in the invasion of Sicily, where he saved his ship by his quick thinking and from that conflict he took an ethic of service that he applied throughout the unprecedented changes of the post war era.
Like the expert carriage driver that he was he helped to steer the royal family and the monarchy so that it remains an institution indisputably vital to the balance and happiness of our national life.
He was an environmentalist, and a champion of the natural world long before it was fashionable.
With his Duke of Edinburgh awards scheme he shaped and inspired the lives of countless young people and at literally tens of thousands of events he fostered their hopes and encouraged their ambitions.
We remember the Duke for all of this and above all for his steadfast support for Her Majesty the Queen.
Not just as her consort, by her side every day of her reign, but as her husband, her "strength and stay," of more than 70 years.
And it is to Her Majesty, and her family, that our nation's thoughts must turn today.
Because they have lost not just a much-loved and highly respected public figure, but a devoted husband and a proud and loving father, grandfather and, in recent years, great-grandfather.
Speaking on their golden wedding anniversary, Her Majesty said that our country owed her husband "a greater debt than he would ever claim or we shall ever know" and I am sure that estimate is correct.
So we mourn today with Her Majesty The Queen, we offer our condolences to her and to all her family and we give thanks, as a nation and a Kingdom, for the extraordinary life and work of Prince Philip, Duke of Edinburgh.
Watch the Prime Minister's address here:
Source link