US
US health leaders are preparing for all scenarios — including another wave of Covid-19 cases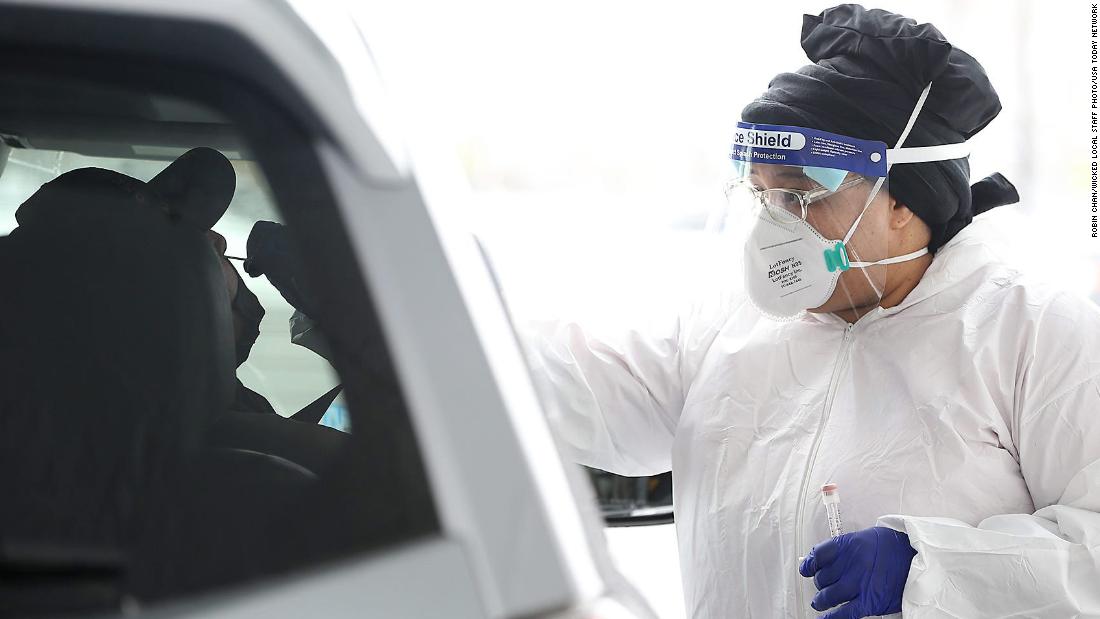 But now is no time to let up on safety measures — for several reasons — according to experts.
More than 54,000 people remain hospitalized with the virus nationwide, according to the
COVID Tracking Project.
And more than 57,000 Covid-19 deaths have been recorded this month alone. On Wednesday, California became the first state to surpass 50,000 virus-related deaths, Johns Hopkins data showed — a grim reminder
of the state's brutal battle against the virus.
In fact, health officials are preparing for a possible third wave that will be driven by a rapidly spreading variant that was first identified in the UK: B.1.1.7. Data from the CDC shows more than 1,880 cases of the variant have been detected across the US — but scientists have warned that number likely doesn't represent the total of cases in the country.
"CDC scientists estimate that the B.1.1.7 variant will be the predominant form of the virus by mid to late March," CDC Director Dr. Rochelle Walensky said Wednesday during a webinar held by the American Public Health Association.
A third vaccine for US could be just days away
The efficacy of the vaccine against moderate to severe/critical Covid-19 across all geographic areas was 66.9% at least 14 days after the single-dose vaccination and 66.1% at least 28 days after vaccination, according to the analysis.
"There were no specific safety concerns identified in subgroup analyses by age, race, ethnicity, medical comorbidities, or prior SARS-CoV-2 infection," the analysis said.
Millions more vaccine doses on their way
And while the US has struggled with supply shortages as it works to get Americans vaccinated, numbers will ramp up in the coming months.
Other challenges faced by national and state leaders are the issues of vaccine hesitancy and racial inequalities.
Kentucky Gov. Andy Beshear announced Wednesday an initiative in collaboration with the Lexington chapter of the National Association for the Advancement of Colored People (NAACP) to provide equitable access to vaccines and tackle hesitancy.
Rev. Jim Thurman, president of the NAACP Lexington-Fayette County Branch, said he understands the hesitancy in his community, saying he himself was initially reluctant to get vaccinated for historical reasons.
"I soon realized that it was safe and that you couldn't get the virus from the vaccine," Thurman said. "COVID-19 was, and still is, hitting the African-American community and other communities of people of color, much harder. We need the vaccine."
California officials, meanwhile, said they will make changes to the statewide Covid-19 vaccine appointment system after access codes distributed to underserved communities were used by outsiders to secure vaccine appointments.
Recent data shows Black and Latino residents collectively have received a combined 19% of the state's vaccine doses while accounting for nearly 60% of California's Covid-19 cases. In contrast, White residents have been given 32.7% of vaccine doses while making up about 20% of the state's cases.
A new initiative for long-haulers
Meanwhile, a major announcement came this week for those who may still be dealing with Covid-19 aftermath for a long time after their bout with the virus.
The director said "large numbers of patients" who were infected with the virus continue to experience a range of symptoms long since they've recovered, which can include sleep disorders, shortness of breath, fatigue and depression.
"While still being defined, these effects can be collectively referred to as Post-Acute Sequelae of SARS-CoV-2 infection (PASC)," the statement said.
"We do not know yet the magnitude of the problem, but given the number of individuals of all ages who have been or will be infected with SARS-CoV-2, the coronavirus that causes COVID-19, the public health impact could be profound," it added.
The statement says that back in December, Congress provided $1.15 billion in funding over four years for NIH to support research into the prolonged effects of an infection.
Some of the questions the initiative hopes to answer, Collins said, include, what are the underlying biological causes of the prolonged symptoms and what makes some people vulnerable to them but not others.
CNN's Ben Tinker, Naomi Thomas, Amanda Watts, Jen Christensen, Maggie Fox, Cheri Mossburg and Christopher Rios contributed to this report.