Tourism
The 4 Best Places Where to Stay in Florida Keys with Hotels & Prices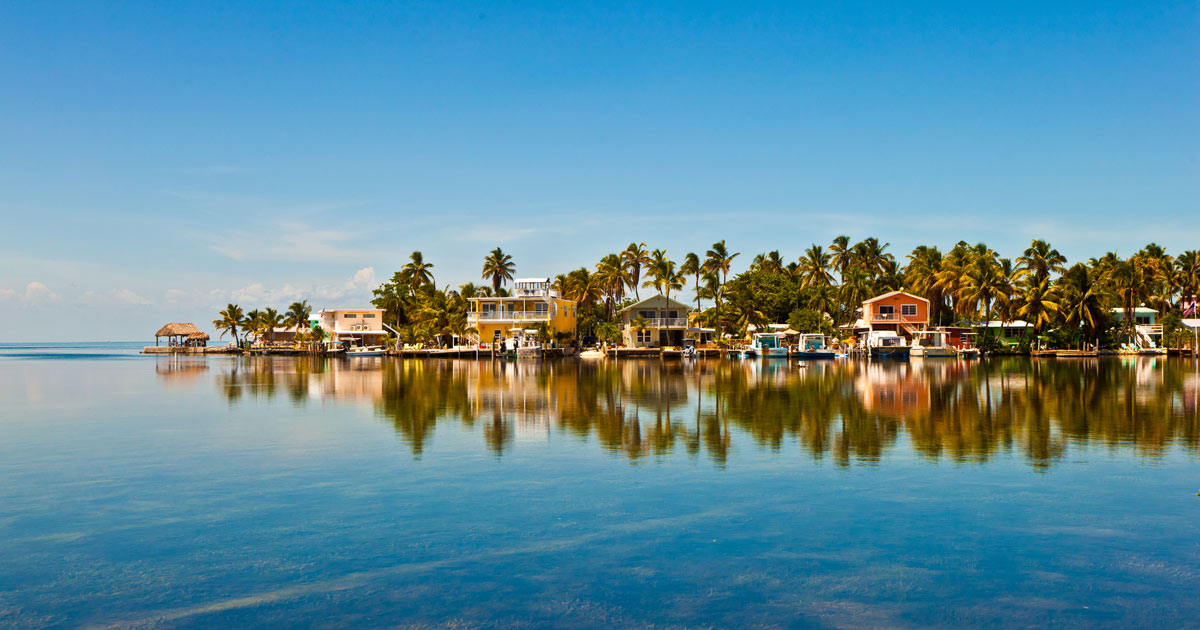 For those who are looking for a tropical gateway, welcome to the Florida Keys, home to the white sand beaches, palm trees, and amazing landscapes you've been dreaming of. Get ready for an amazing holiday!
The Florida Keys is an archipelago that is located in the southern tip of Florida and is just 90 miles (120 km) away from Cuba. So it is not a surprise you can find a Caribbean vibe and good Cuban restaurants in the Florida Keys! It has not only incredible diving spots but also has amazing natural parks where you can see crocodiles, turtles, and even the endangered key deer. Excited? I sure am!
When it comes to choosing the best town in the Florida Keys you might get confused as there are literally more than 800 islands in this archipelago! Don't worry I am here to help. In this blog post on where to stay in Florida Keys, I will talk about the 4 best towns to stay in the Florida Keys and will give the top hotels for all budgets. Just make sure to make a reservation in advance once you find your ideal place as these hotels are selling too fast!
Are you ready to land in the tropical paradise?
If you are in a hurry
Here are some of the best hotels plus Airbnbs in the top areas to stay in Florida Keys sorted by price. All of them have fabulous reviews, too:
Here is a map of the best 4 areas to stay in the Florida Keys I will be talking about in this blog post, so you can easily visualize them:
1. Key West – where to stay in Florida Keys for the first time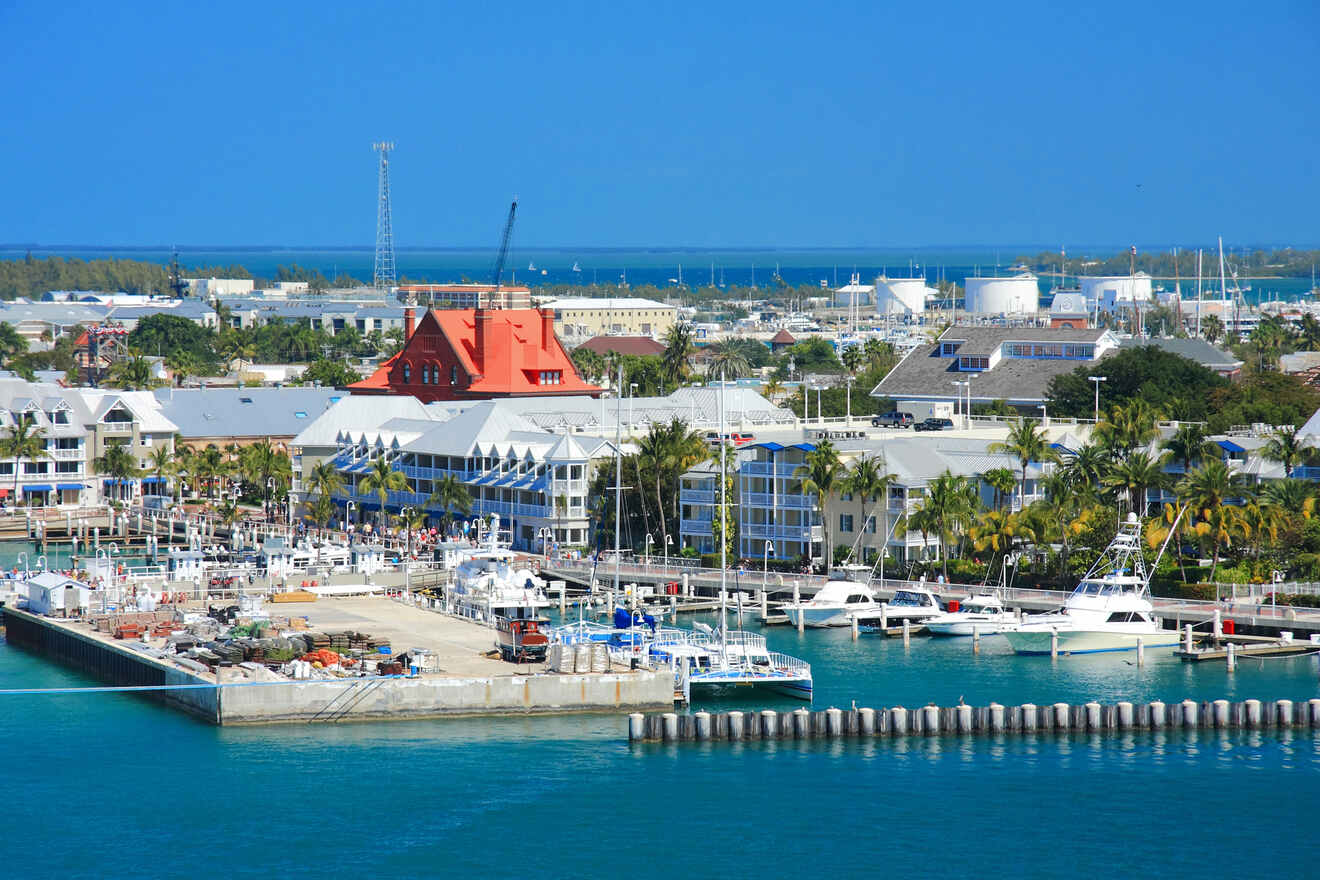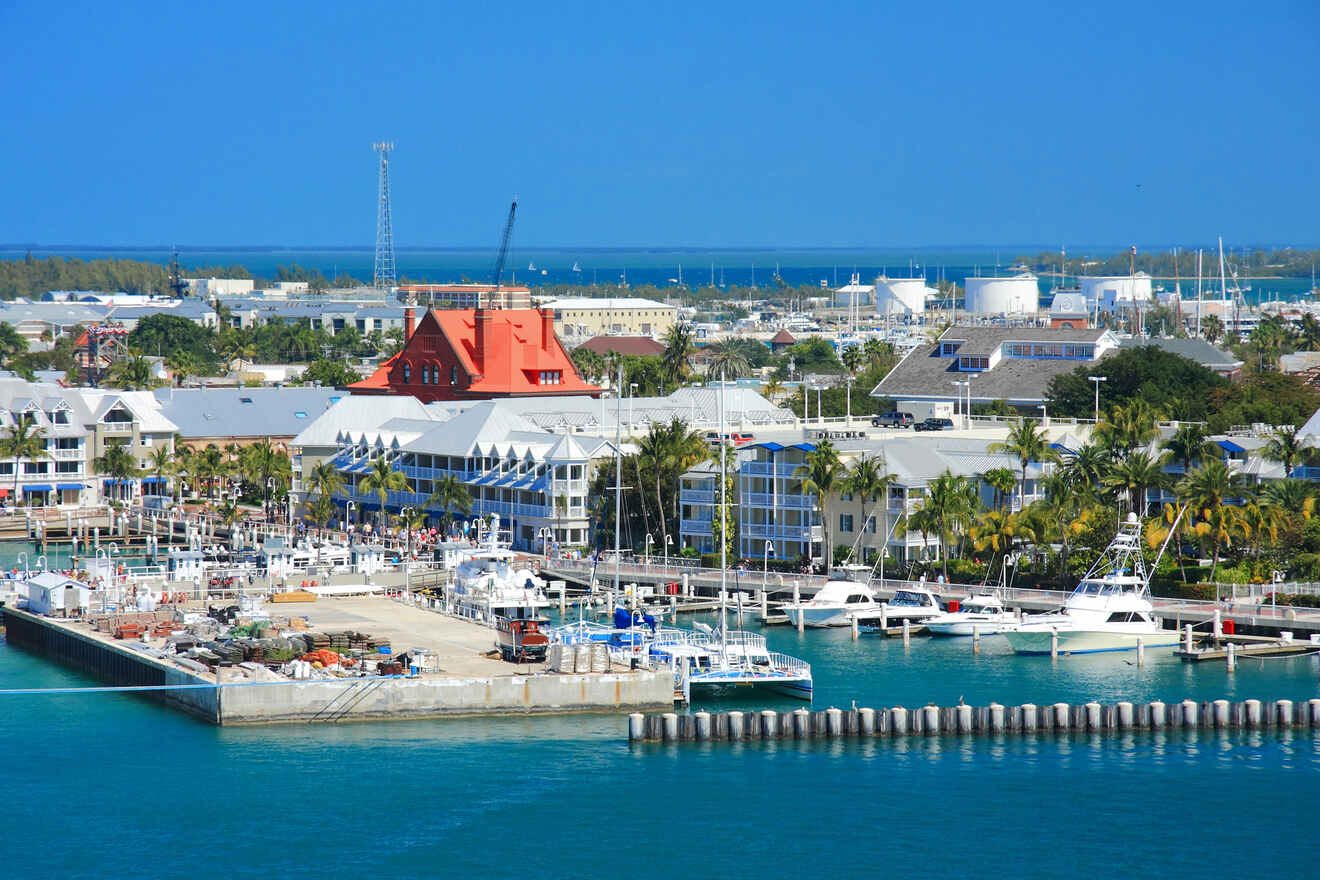 Key West is the most famous island in the Florida Keys thanks to the fact that it has so many historical sites, fancy shops, and great restaurants. One day you can enjoy stunning white-sand beaches, and the next you can travel back in time in the Old Town before bar hopping all night long. Sounds fun, right?
Key West lays claim to the Southernmost Point of the Continental US, so it is a must-do activity to have a photo at the monument. Don't spend too long though because you need a lot of time to check out the famous Duval Street in the Old Town. With cute colorful buildings, tons of shops, trendy restaurants, and bars there's enough to keep you occupied for days. During the sunset, the place you must be is Mallory Square, you will love the epic view from the waterfront and cool cafes and shops here!
Key West has a great selection of hotels but since it is the most popular island in the Florida Keys, hotels fill up so quickly so do not forget to make your reservation in advance! I've already picked the top 4 hotels in Key West but if you want more options check out the ultimate neighborhood guide for Key West.
Other accommodation in the Florida Keys, Key West
Things to do in Florida Keys, Key West
Have a photo at the Southernmost Point of the Continental US
Shop and try delicious key lime pie in cafes at lively Duval Street
Have a sunset walk at Mallory Square 
Go for a walk at the Fort Zachary Taylor Historic State Park
Visit Ernst Hemingway's House and the Key West Museum of Art & History
Get a suntan at the white sand beach, Smathers Beach
Go to the Key West Lighthouse and see the beautiful views
Take a day trip to Little Palm Island
2. Key Largo – best area in the Florida Keys for water sports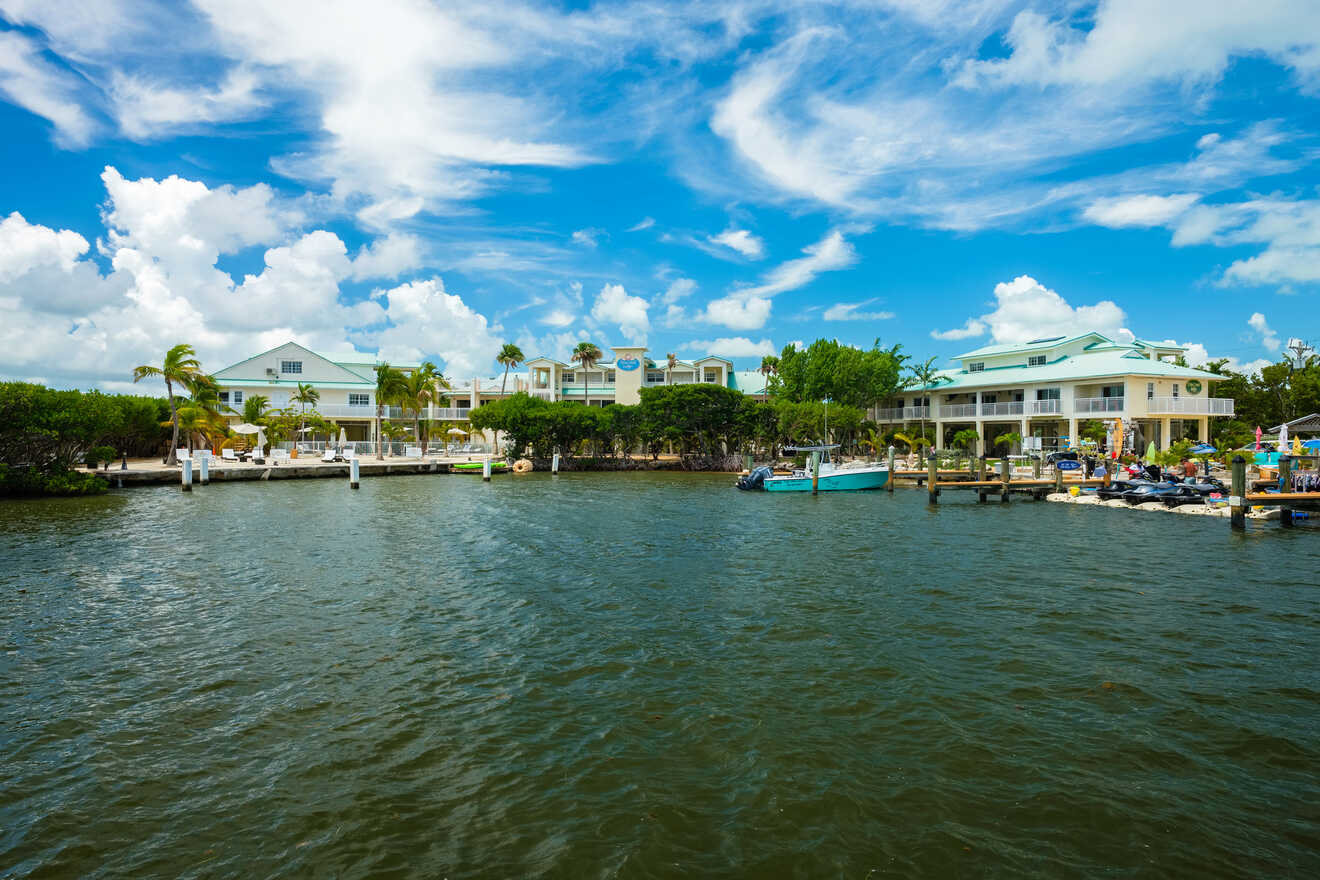 Key Largo is the northernmost island in the Florida Keys and 2 hours drive from Key West. It is an island paradise for those who are keen on water sports activities such as jet-skiing, snorkeling, and scuba diving in crystal clear water.
Once you step into Key Largo you will feel the tropical vibe of the town with many Cuban restaurants, white sand beaches surrounded by palm trees, and amazing nature. Key Largo has one of the best diving spots in the Florida Keys as well as amazing national parks where you can see a lot of animals in their natural habitats such as crocodiles, dolphins, and many more. Doesn't it sound so exciting!
You won't recognize how time has passed in Key Largo when you are spending time in the turquoise water and spectacular nature but you should also allow some time to discover the amazing food scene because here you will find so many nice seafood restaurants and cocktails bars your taste buds won't believe it!
I found the best hotels in Key Largo with convenient locations to the beaches and all you have to do is pick your favorite one and make a reservation now. Since you are in Florida if you want to add another famous destination to your travel itinerary, check out the best places to stay in Miami.
Here are the best places to stay in Key Largo:
Other accommodation options in Key Largo
Things to do in Key Largo
Have a cocktail at Tiki Bar
Join a dolphin watching tour
See crocodiles at the Dagny Johnson Key Largo Hammock Botanical State Park
Go scuba diving in one of many amazing spots
Get a suntan at Far Beach
Have dinner at Sushi Sake Key Largo
Visit the Laura Quinn Wild Bird Sanctuary
Discover Everglades National Park with a kayak tour or go fishing by taking fishing charters
3. Marathon – where to stay in the Florida Keys with family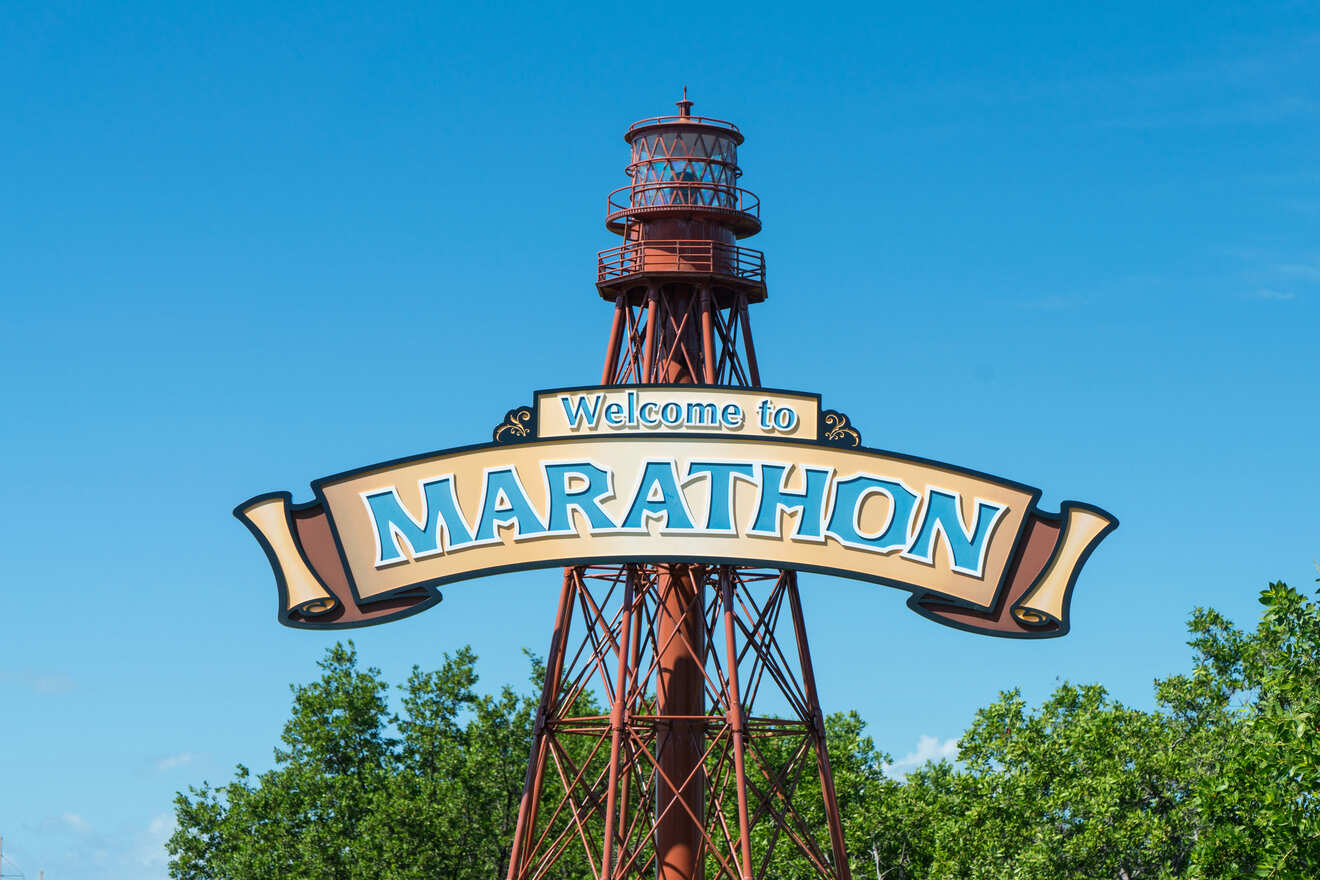 Marathon is located in the middle Keys and an hour's drive from Key West. It is a very charming island where you will find great family resorts with amazing beaches, beautiful national parks, and fun activities. Don't worry, you don't need to run a Marathon to get here!
Start your day by hitting one of many nice sandy beaches and enjoy swimming in the crystal clear water and building sandcastles with your family. Then you will find so many interesting things to do in Marathon such as swimming with dolphins, visiting aquariums and the most interesting one, the Turtle Hospital where you can see the saved sea turtles. Already excited? I am!
The hotels I picked in Marathon have family rooms and kid facilities, so all you need to do is choose the best one for you and start packing!
Other accommodation options in Marathon
Things to do in Marathon
Take a day trip to the beaches of Little Torch Key and Duck Key
Go to the Turtle Hospital and see different kinds of saved turtles
Visit the Dolphin Research Center
Go for a walk at the Curry Hammock State Park
Build sandcastles at Sombrero Beach and Coco Plum Beach
Learn about different sea species at Florida Keys Aquarium Encounters
Visit the neighbor island Big Pine Key to see the endangered key deer
Checkout the Crane Point Museum & Nature Center
4. Islamorada – best area to stay in The Florida Keys to relax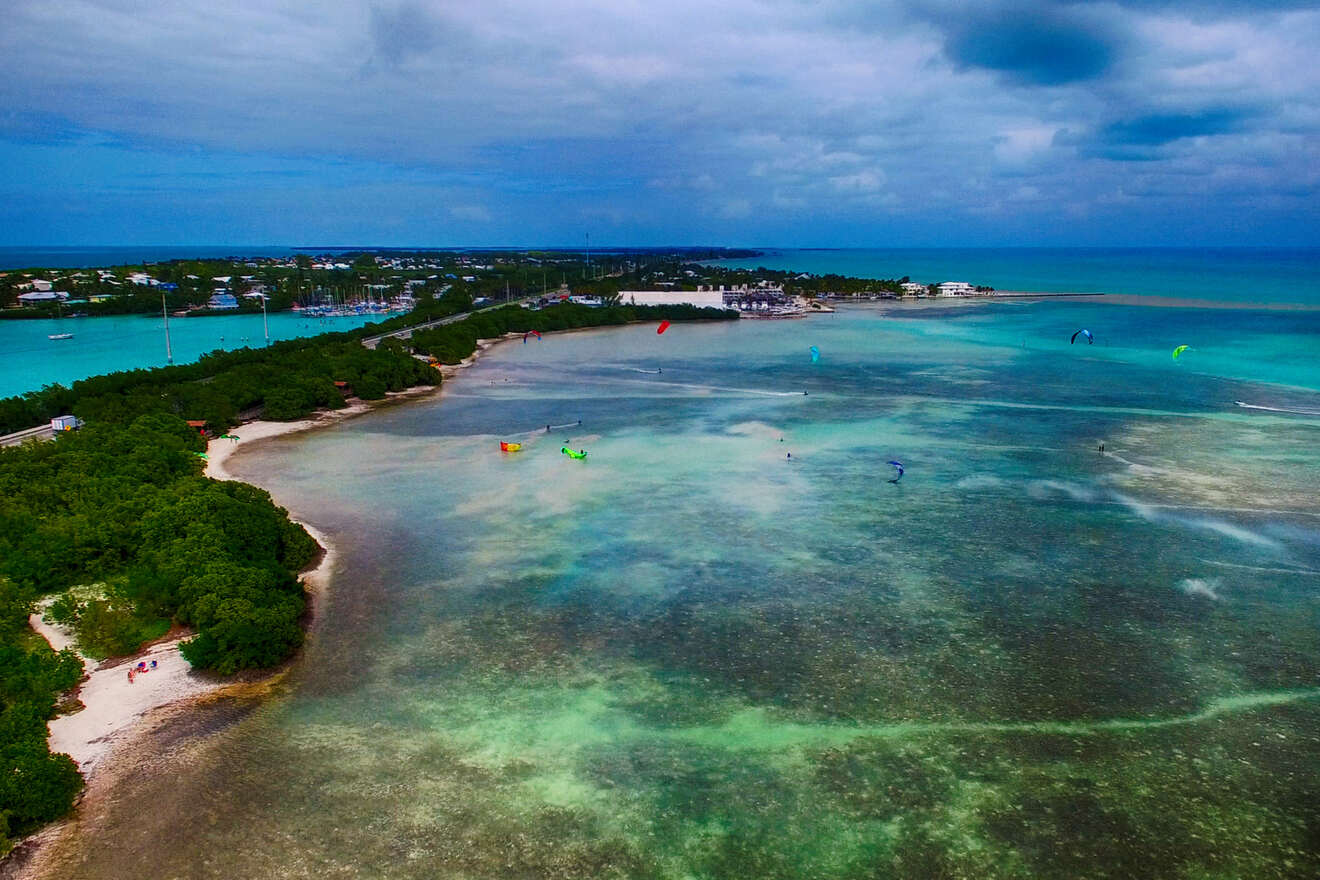 Islamorada is located 30 miles (40 km) north of Marathon and is a beautiful island with a relaxed vibe. By staying here you will have the chance to enjoy pristine beaches, snorkel in the crystal clear water, and discover amazing diving spots!
Even though Islamorada is a laid-back town it is an amazing place to go on outdoor adventures. You can hike at the Windley Key Fossil Reef Geological State Park, swim with dolphins, and visit the diving discovery centers. Islamorada is also famous for its local breweries so don't forget to stop by one of them to take a pint!
The hotels I chose in Islamorada are right on the beach or just walking distance to the beach so you can simply chill under the palm trees and watch the ocean all day long if you choose.
I'm sure you're curious about them so here they are:
Other accommodation options in Islamorada
Things to do in Islamorada
Visit the History of Diving Museum
Take a pint at Florida Keys Brewing Co
Visit the Keys History & Discovery Center
Go for a walk at the Windley Key Fossil Reef Geological State Park
Chill on the white sand beaches, Anne's Beach, and Library Beach
Enjoy the Theater of the Sea with dozens of cute sea mammals
Have a meal at Lorelei Restaurant & Cabana Bar
Get a suntan at Village of Islands Founders Park
Frequently asked questions about the Florida Keys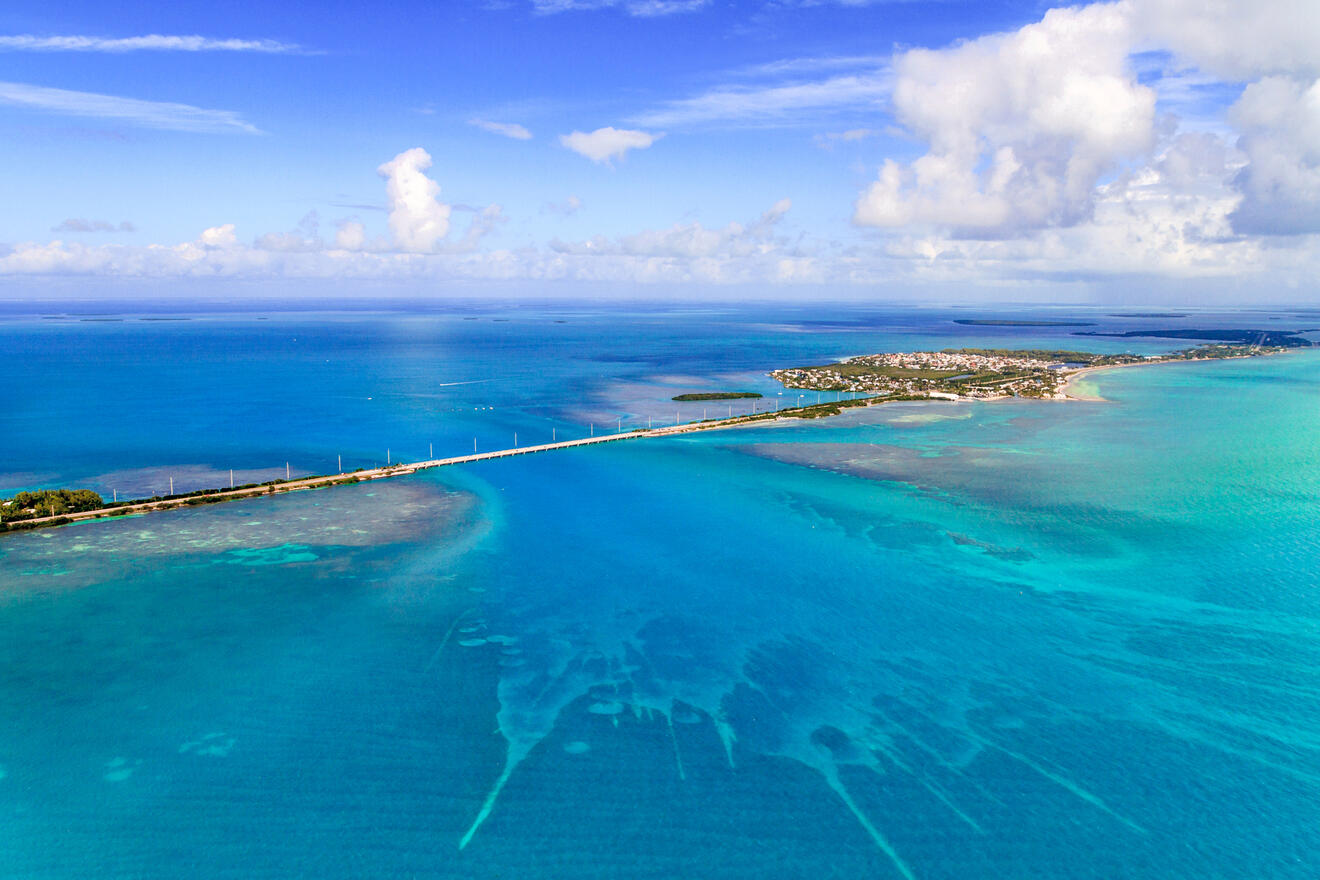 Conclusion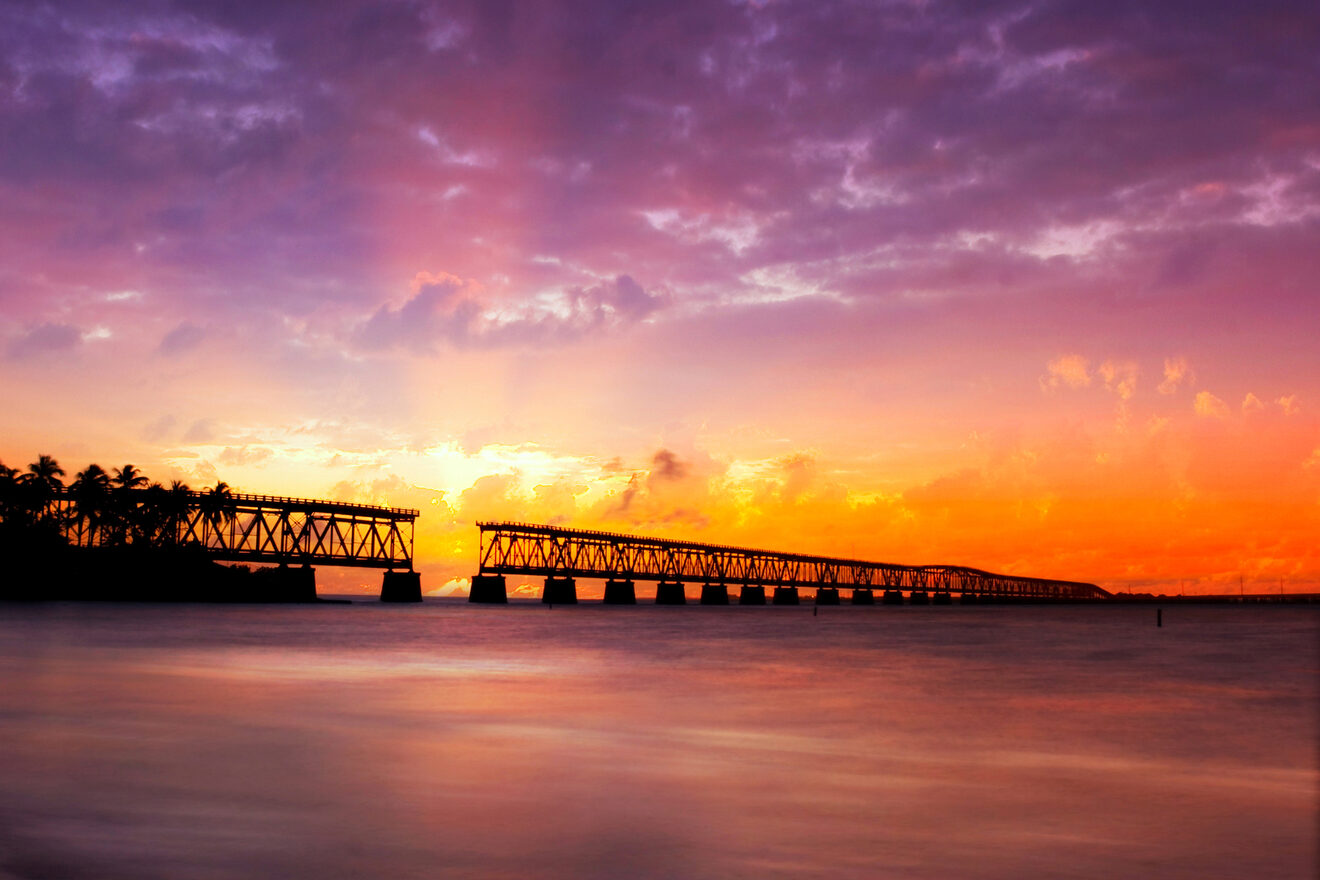 While you are getting ready for a tropical holiday, It is time for me to say goodby to you. Don't forget to take your swimsuits and flip flops with you and enjoy every minute of your time in the Florida Keys!
I hope this blog post helped you to pick the best place to stay in the Florida Keys and you have already made your reservation to secure your place (seriously, I had to look 6months in advance to find availability at some of these hotels).
All of the Key Islands have amazing beaches so I let you decide on the area depending on the activities you want to do. No matter where you stay you can always do day trips and enjoy the scenic views of the Overseas Highway.
I know I gave a lot of hotel options but if you still can't decide among them let me help you. Here are my top 2 places to stay in the Florida Keys that have very good locations and amazing reviews!
If you have any questions or suggestions about the Florida Keys do not hesitate to leave a comment below. I'll be more than happy to leave a reply!
Have a wonderful holiday,
Eylul
Source link